Baho! is a novel by Roland Rugero that portrays a horrible injustice in an African society. But something I love about this novel is that it recognizes that things need to change. The mob mentality in any society is always a dangerous one. A mob can be a powerful force that can do terrible things to people and if this a normal thing than something has to change. The book ends with the contemplation of change in society. Change is necessary in a society when there are horrible events, such as the one that took place in this novel, but change is hard and it takes time.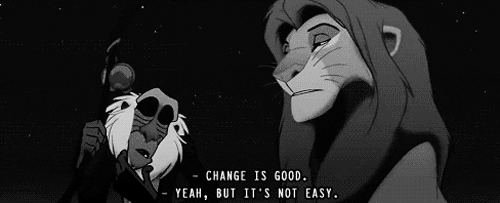 "Disturbances mark our entire life, whichever way you look at it. The most important thing is to disturb life itself without letting it fall to pieces."
This quote refers to change as disturbances, which could be viewed as a negative thing but when disturbing something that is already negative can turn it into a positive. Like the quote says, it is important to not let everything fall to pieces. So, changes for the better need to be implemented slowly as to not anger or frighten people away from the idea. The fact that the woman saying this quote refers to changes as disturbances could show that she could also not necessarily be open to change herself. She is only human and it is ridiculous to say that there is any human out there not afraid of change on some level. Being afraid to change your lifestyle is scary but if that lifestyle is a negative one then it needs to change.
This novel made us live through Nyamuragi's horrible and traumatic experience so that we could understand it was wrong. While reading we were granted a bird's eye view on this scenario where we could see that people were falsely accusing Nyamuragi. By adding this bit at the end about change just reinforces what we have been thinking while reading this novel and I am glad the author acknowledged it.